Let me show you the steps I've followed to build multiple six-figure blogs based around my hobbies.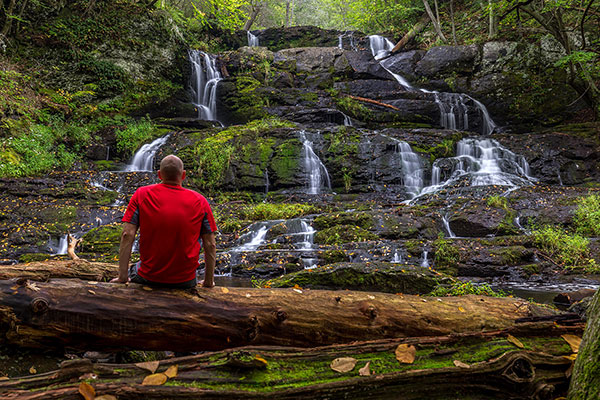 That's me (Marc), working on my photography blog.
I love being surrounded by nature. You might think a blogger spends all day stuck to the computer, but thanks to my photography blog, I was able to travel and spend many working days hiking and taking photos. I've never been a professional photographer, but being able to turn my hobby into a money-making blog allowed me to use my time to do the things I love and incorporate it into my work.
What's your hobby? Is it photography, art, design, travel, hiking, camping, fishing, video games, board games, golfing, skiing, fitness, yoga, cooking, baking, home brewing, crafting, music, gardening, woodworking, wine tasting, or something else?
Does it seem unrealistic to turn your hobby into a legit online business? I've started and grown a few blogs around my hobbies of web design and photography. Those blogs have generated a comfortable six-figure income and brought in a combined total of more than $1.2 million when I sold them. The story of my photography blogs and my "million dollar hobby" has been covered by websites like Forbes, Side Hustle Nation, and Making Sense of Cents.
I know turning a hobby into an online business is possible because I've done it, and I'd love to share my approach with you.
How would your life change if you were able to make money from your hobby?
If you're like most people, you'd love to be able to make extra money working from home (or from any place with an internet connection). Blogging is an ideal way to turn your hobby into a profitable business regardless of whether we're talking about part-time supplementary income or a full-time income.
Many people start a blog with hopes of being able to make some extra money to improve their financial situation, to be able to stay home with their kids, or to make money by writing about something that they love.
Unfortunately, most bloggers who set out to make money never actually make a dime.
There are all kinds of challenges that trip people up. In order to be able to make money with your blog, you'll need to be able to get visitors to the site. Most new bloggers fail in this area. Of those that do have some success generating traffic, some of them find that they don't know how to turn that traffic into money.
What makes this situation more frustrating is the fact that you see other bloggers having success and making money. You know it's possible, but maybe you don't know how to make it work for yourself.
But what if you could follow a blueprint that's been created by a successful blogger who has launched and grown several blogs in different niches?
I've created Hobby to Pro to help others who would like to turn their hobby into a source of income through blogging.
Hobby to Pro is a thorough video course with everything you need to help you go from beginner to money-making blogger. Plus, you'll get access to a printable workbook with action steps that guide you through the entire process.
My name is Marc and I started my first blog in 2007 on the topic of web design. I wasn't a real web designer, but I liked the topic and I was interested in learning. I had no idea what I was doing, but I was reading everything I could find about blogging and digital marketing and trying to implement it
Sure enough, I found some things that worked and within 6 months I had grown that blog to reach 100,000 visitors per month, a number that seemed astronomical just a few months earlier. With consistent effort and dedication, I was able to quit my full-time job 1.5 years after launching the blog. That was in 2008 and I've been working as a full-time blogger ever since.
My first blog continued to grow, peaking at more than 1 million visitors per month, and generated a nice six-figure income to support me and my family. In 2013, about six years after launching the blog, I sold it for $500,000.
Since then, I have built and sold a few photography blogs as well. Despite the fact that I'm nothing more than an amateur photographer, I was able to turn those blogs into a full-time income. In fact, from 2012 - 2018, I made more than $1 million in total with my photography blogs.
Every time I've sold one of my blogs, I had to start at the beginning and do it all over again. Because I've started over several times, I can relate to the challenges that new bloggers face with growing a blog from scratch. I know what it's like to get frustrated that no one seems to be coming to your blog. And I know what it takes to go from that stage to actually making money with the blog.
I've also had blogs in a few different niches (web design, photography, and now finance). I can show you the approach that works regardless of what niche you're in or what topics you cover with your blog.
Blogging has made a huge difference for me and my family. Instead of feeling depressed about going into the office for a job that I hated, I've been blessed to be able to earn a living from home (and traveling) working on things that I enjoy. My income has increased significantly compared to what I made at my old job, and my wife was able to leave her job and become a stay-at-home mom to our two kids. Working as a blogger gives me the flexibility to dictate my own schedule, and I have more time with my family and more freedom over when and where I work.
If that sounds appealing to you, I'd love to be able to share what I've learned by turning my own hobbies into a successful online business.
Introducing Hobby to Pro
If you'd like to learn how to start your own money-making blog based around your hobby, Hobby to Pro was created for you.
Maybe you're looking for a way to make money from home and blogging seems like it would be a good fit for you. Or maybe you've already started a blog but you haven't had much success.
Hobby to Pro can help you to:
Choose the right blog niche
Pick a name for your blog
Create a unique angle for your blog so it stands out
Install WordPress and setup your blog
Choose a theme (template) for your blog
Customize the design of your blog
Write content that your readers will love
Develop a publication schedule
Grow a blog when you're not an expert
Develop a plan to get traffic
Leverage other people's audiences to start getting traffic to your blog
Optimize your blog posts for traffic from search engines
Use a few specific resources to explode the exposure of your blog
Build strong connections and grow your profile within the niche
Grow an email list and cultivate loyal followers
Make money with advertising
Make money by offering a service
Make money with sponsored content
Make money with affiliate programs
Make money by selling your own digital products
Turn Your Own Hobby Into a Profitable Online Business
Hobby to Pro includes:
90+ video lessons (10+ hours broken down into short lessons to fit any schedule)
A printable workbook with summaries of each lesson plus action steps that lead you through everything you need to do with your own blog
A printable blogging binder with many helpful resources like a blog income tracker, blog expense tracker, goal tracker, stats tracker, and more
Bonus PDF checklists and resources
You don't need to be an expert in order to build a successful blog! In this course you'll learn how to turn your hobby into a legit online business.
With my first-hand knowledge of Marc's blogging expertise, I had full confidence that his course would be filled to the brim with helpful ideas and information. And it didn't disappoint! Even as someone who works full-time in the blogging world, I found myself eating up Marc's course content. While some blogging courses offer vague principles and concepts, Marc digs into the trenches -- fully demonstrating every step in the blog building process for his students. If you're looking for a clear roadmap to monetizing your hobby through a blog, this is the course for you!

-- Clint Proctor, WalletWiseGuy.com
Marc is a veteran of blogging and has weathered many storms as search engines, and the way people interact with content, have changed over the years. Having mentored me quite a bit over the years, I'm extremely grateful for his kindness and willingness to share, but also his deep knowledge. He fully understands the intricacies of starting a site, even in competitive niches, and growing it to a full successful business.

-- Mike Moloney, FilterGrade.com
Marc has been in the blogging game for a long time, and his expertise and knowledge definitely show. Marc has helped me refine my own blogging content strategy over the past year, and his insights have helped transform my traffic and overall income.

-- Tom Blake, ThisOnlineWorld.com
Hobby to Pro is Perfect for You If:
You have a hobby that you would love to turn into a business (part-time or full-time) - You'll learn how to make money doing something that you love.
You're interested in blogging but don't know where to start - I'll show you everything you need to know to launch your blog and start moving forward.
You're not tech savvy - You don't need any special skills or experience. I'll show you how to easily set up your blog, even if you're not tech savvy.
You're a new blogger looking for help - Blogging is much easier when you're being taught by someone who has more than a decade of experience building successful blogs.
You've started a blog but not had much success - Many people start blogs and quickly become frustrated by a lack of progress. This course can help to put you on the right path.
Frequently Asked Questions
What if I have no experience blogging?
Hobby to Pro assumes that you have no prior experience with blogging. There are lessons that will help you with the basics like choosing a niche for your blog, naming your blog, and getting your blog set up. The course has an entire module devoted to the basics of setting up your blog. Don't worry, it's simple.
What if I've already started my own blog?
If you've already started your own blog, you can simply skip the lessons related to setting up a blog. The lessons in Hobby to Pro will help you to take your existing blog to the next level.
When does the course start and finish?
You'll be able to access the course as soon as you sign up. Students get full access to the entire course, so you can work through the lessons at your own pace. There is no starting or ending date.
How long will I have access to the course?
After enrolling, you'll have unlimited access to the course for as long as you'd like.
What format is the course material presented in?
The lessons are in video format and you can also download a text-based workbook (PDF format). The workbook includes key points for the lessons, as well as action steps that will lead you through the work that you need to do with your own blog. Even though video is the primary format of the course, the workbook is extremely important because it helps you to implement the material.
How much time will I need to invest into my blog?
You can invest as much or as little time as you want, although I do recommend dedicating 10 hours per week in order to get the best results. You can work those hours whenever it fits into your daily/weekly schedule.
How much money will I need to invest into my blog?
The required investment to get started is very small. The only absolutely necessary expense is for domain name registration and web hosting, which can be less than $100 per year. If you're able to invest another $50 - $100, buying a premium theme (template) is a good idea, although it's not completely necessary. As your blog starts to make money, you'll want to re-invest some of that money into things like plugins, email marketing services, and other resources that make your work easier or more efficient.
What if I'm not happy with the course?
If you're not satisfied with the course, contact us within 30 days of the purchase for a refund. In order to qualify for the refund you'll need to show that you've gone through the course and taken action to implement what's being taught.
My question hasn't been answered.
If you have any additional questions, please feel free to contact us and we'll try to get those questions answered as quickly as possible.
Enroll today and get immediate access!