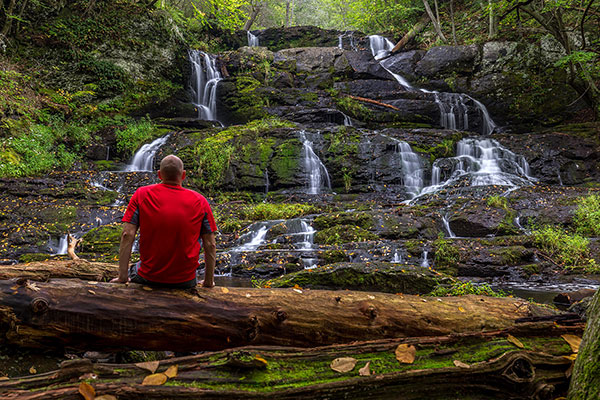 I've been blogging full-time since 2008 and in Blog Launch Breakthrough I'll share the process I've used to build successful blogs in several different niches like web design, photography, and personal finance. This picture is me on a work day while I was running a landscape photography blog. I was able to incorporate my hobbies (hiking and photography) into my work and enjoy amazing experiences like this one.
I started my first blog in 2007 while I was working full-time as an auditor. At first I was just looking to make some extra money, but I quickly realized that I loved blogging and I wanted to see if I could turn it into a full-time income and a sustainable business.
My first blog was a web design blog that wound up growing pretty quickly and it allowed me to leave my full-time job in 2008. For more than a decade now, I have been working from home, enjoying a flexible schedule as a full-time blogger.
That first blog reached more than 1 million visitors per month before I sold it in 2013. One of the reasons I love blogging is because blogs are a valuable asset that you can sell when you are ready to move on and do something else. Over the years I've sold several different blogs for a total of more than $1.2 million.
I can't guarantee that you'll make a million dollars from your own blog, but I can show you the process I've used to build my blogs on a solid foundation that allows them to generate traffic and produce income.
Blog Launch Breakthrough is a comprehensive course including more than 80 video lessons that provide insight from a six-figure blogger. And you can skip the payment and get access to the course for free. Read this page at my personal finance blog to see the details.
Blog Launch Breakthrough students get:
80+ video lessons
Printable workbook with action steps that help you put the content into practice
Printable blogging binder
Bonus PDF downloads
Lifetime access to course + future updates of the course
Overcome Common Blogging Challenges
There are a few common challenges that cause major trouble for many new bloggers.
Not knowing which blog niche to choose
The technical aspects of setting up a blog
Confusion over what topics to write about
Lack of traffic and visitors
Not knowing how to actually make money from the blog
Blog Launch Breakthrough can help you to overcome all of these challenges (and others).
Blog Launch Breakthrough is Perfect for You If:
You're interested in blogging but don't know where to start - I'll show you everything you need to know to launch your blog and start moving forward.
You're not tech savvy - You don't need any special skills or experience. I'll show you how to easily set up your blog, even if you're not tech savvy.
You're a new blogger looking for help - Blogging is much easier when you're being taught by someone who has more than a decade of experience building successful blogs.
You've started a blog but not had much success - Many people start blogs and quickly become frustrated by a lack of progress. This course can help to put you on the right path.